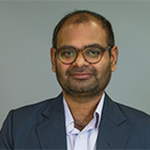 Ashwin Venkatraman is the Founder and CEO of Resermine Inc. an oil and gas tech startup that was awarded MOST PROMISING STARTUP at Offshore Technology Conference in Houston 2018. Resermine's integrated subsurface analytics platform is currently being used to optimize field injection operations in Germany, Egypt, Mexico and India.
He has unique research and development expertise in both industry and academia. He worked with Shell for over 12 years at all their technology centers (India, Netherlands and Houston) in various capacities in operations, field development planning as well research. He also held research appointments in Princeton University as well as at Institute of Computational Engineering & Sciences (ICES) at the University of Texas before founding Resermine.
Ashwin has published over 25 manuscripts and is currently on the editorial board of Data Science and Digital Engineering (DSDE) journal – a recently launched publication by SPE. He also on the advisory board of SPE's Management and Information Committee that seeks to establish data standards to drive innovation. Ashwin holds a BS and MS in Chemical Engineering from IIT Bombay (India) and earned his PhD from University of Texas at Austin in Petroleum Engineering while on a sabbatical from Shell.